A good leader is nothing without a great team, and I've been blessed to work with many different amazing teams throughout my time at FHN.
I've been an FHNtodayTV editor since my sophomore year, and stepped up into the highest editor position of Executive Producer during my junior and senior years. It's a position I've dreamed of having ever since I was a freshman.
My goal as a leader is to balance creating quality content with the happiness and well-being of my staff. When I first joined our publications program, I immediately felt welcomed by everyone there. As a leader, I hope to create the same sense of home for those who follow in my footsteps.
Maintaining a Class Schedule
As the Executive Producer, it was my job to ensure each class period was planned with activities and work time to keep our staff productive.
I created calendars that outlined deadlines, work time, lesson time, and time to bond with each other. Each calendar worked as an outline for the month, and there were many times where my adviser and I veered off course to create a different plan for the week.
I always made sure to give enough work time in class, and allowed my section editors to have some flexibility during work days to create a plan that worked the best for their section.
Below you can see an example calendar that I created for the end of 1st Semester.
[pdf-embedder url="http://emilyforfhntoday.com/wp-content/uploads/2018/11/1st-Semester-Video-Plan-final.pdf" title="1st Semester Video Plan final"]
In addition to creating a calendar, I also create lesson plans for class that help educate my staff on new skills to improve their videos. These lessons had a variety of topics, including how to shoot better b-roll, conduct better interviews, or learn new skills in the Adobe Creative Suite.
Below, you will find an example of a two day lesson I created for the staff about b-roll. I created this lesson after noticing our videos were struggling visually and staffers were not incorporating basic video techniques like sequences into their stories.
I wanted to teach them all about gathering b-roll, from the equipment they need to tips for using natural sound as a storytelling technique.
After staffers completed this b-roll bootcamp, I immediate noticed an increase in the quality of b-roll and amount of sequences used in our videos.
As soon as I became the Executive Producer of FHNtodayTV, I learned communication was the key to the success of the staff.
Our program switched to using Slack in my senior year. I used it to communicate things such as class events, deadlines, and helpful information to ensure that everyone was on the same page.
I made sure to send deadlines in writing so that every staffer would know when things are due ahead of time, as well as preventing someone from using the "I was never told when my footage was due" excuse.
I found my staff was much more productive when I sent these messages via Slack. It reminded them of deadlines outside of class and led to more productivity. It also provided an easy way for me to check in when deadlines were missed.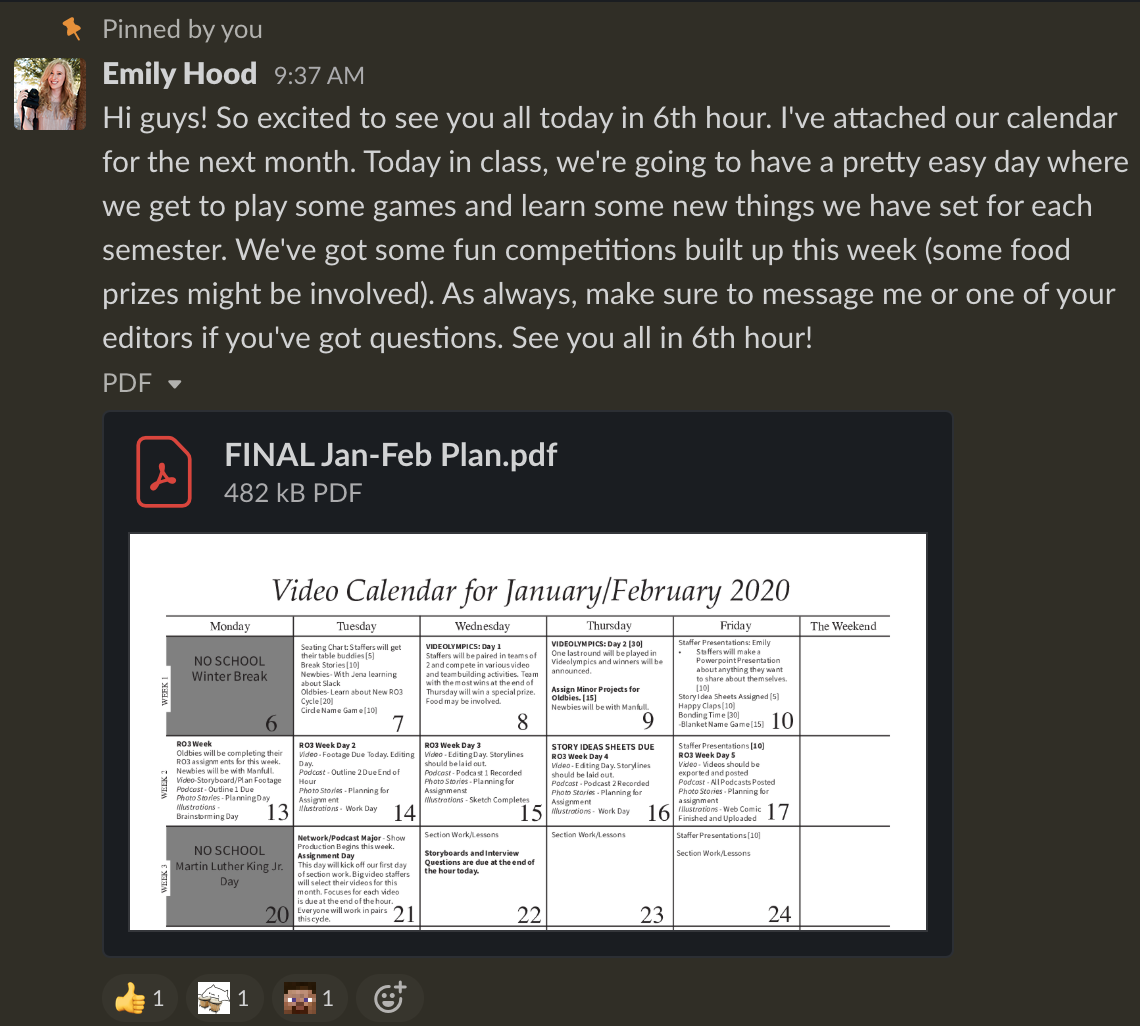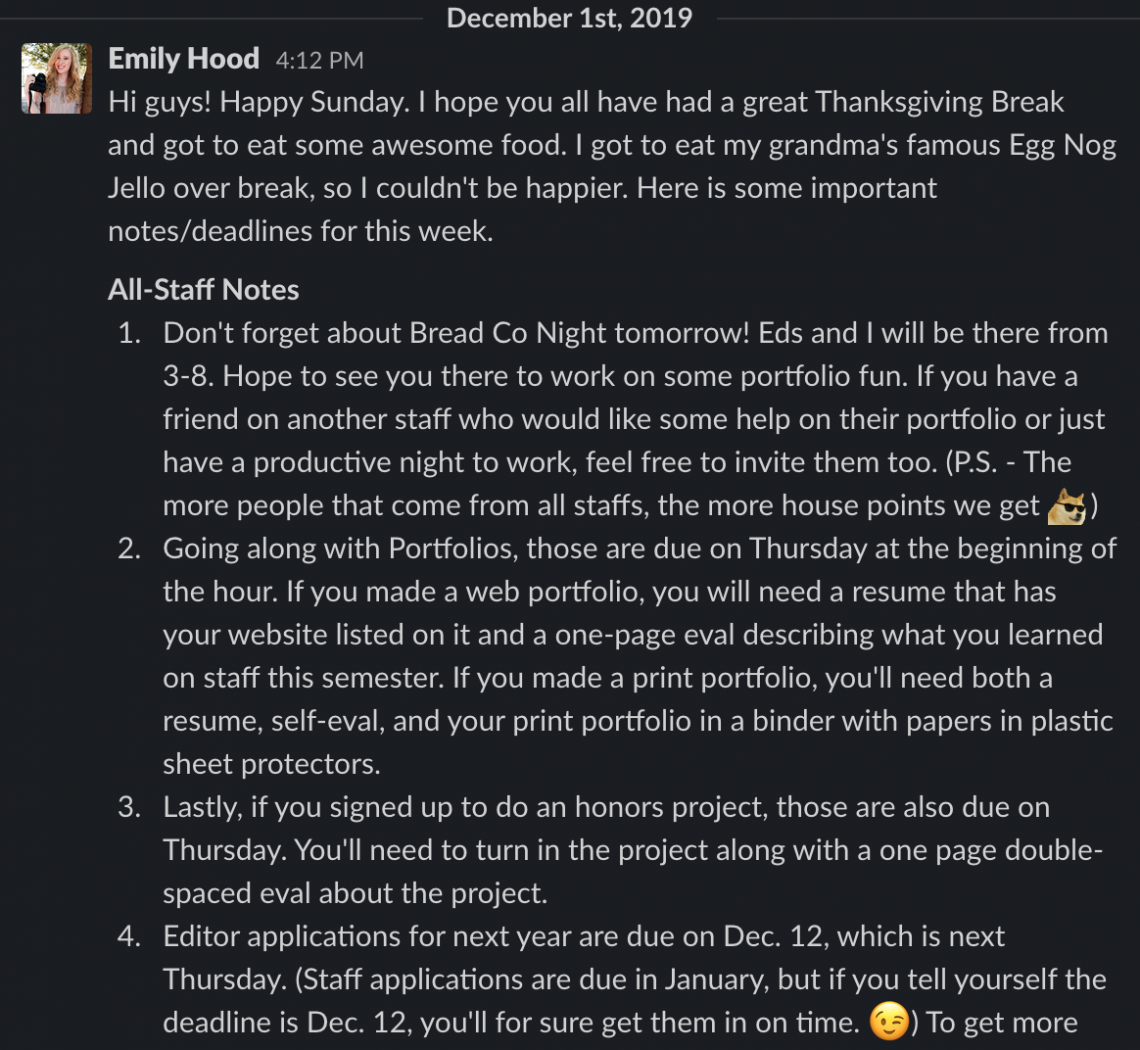 Ensuring Diverse Coverage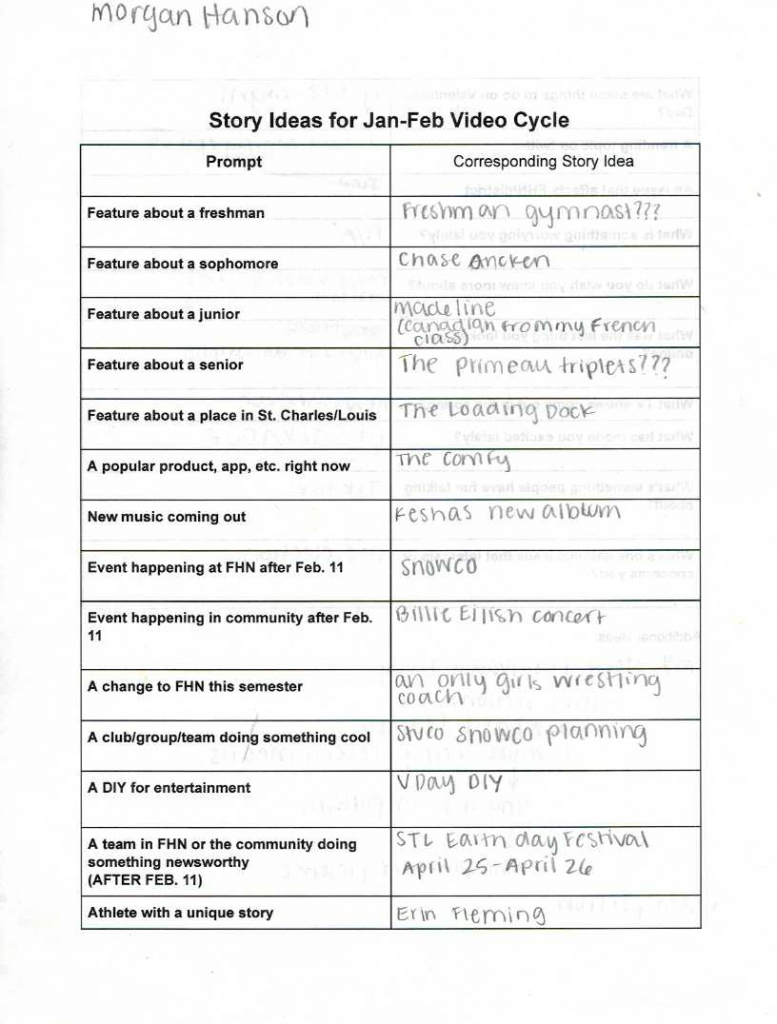 During my senior year, I noticed the stories our storytelling section were producing did not line up with the needs and interests of our school community. There are 1800+ people in our school building, but I felt like we were only covering a few popular figures.
To generate better story ideas, I created a Story Idea Sheet that all staff members fill out. Our staff is made up of many different grade levels, and all of us come from different backgrounds and are involved with different organizations throughout the school.
In creating this Story Ideas Sheet I found that our staff became much more productive in covering big stories in our community, as well as giving a voice to those who might not get coverage in other stories.
Click here to see an example of a story idea sheet.
While a lot of my job at FHNtodayTV consists of managing class time and deadlines, I believe that in order to have a successful and happy organization, there must be time for bonding and fun.
Every week, the staff nominates one person as the "Staffer of the Week." This person has either worked hard that week, helped out a classmate or been a friendly face in the room. The prize for winning the award varies from year to year.
My junior year, staffers got their picture taken with a video frame that was posted in the room.
My senior year, a fellow editor ordered a set of authentic chainmail armor that gets to be worn the entire week.
I love giving out the award every week because it gives the staff a chance to take a fun break, even in the hard weeks when we're all stressed and on deadline. I think it's safe to say our staff is the only class in the entire school that gives out chainmail armor to wear.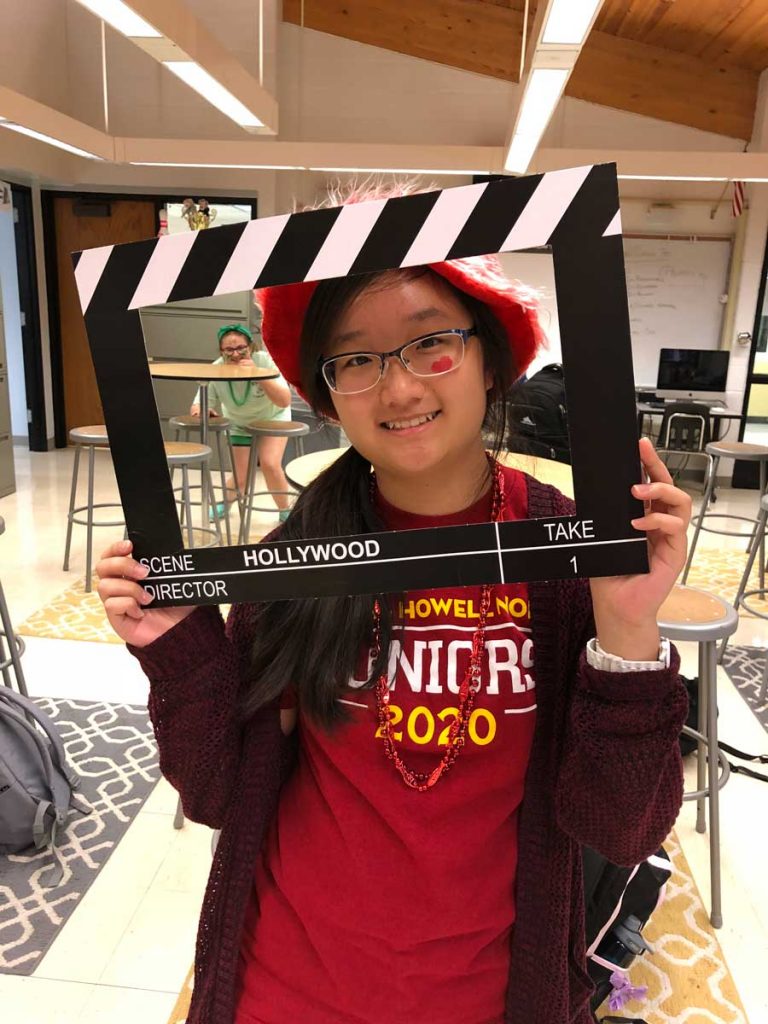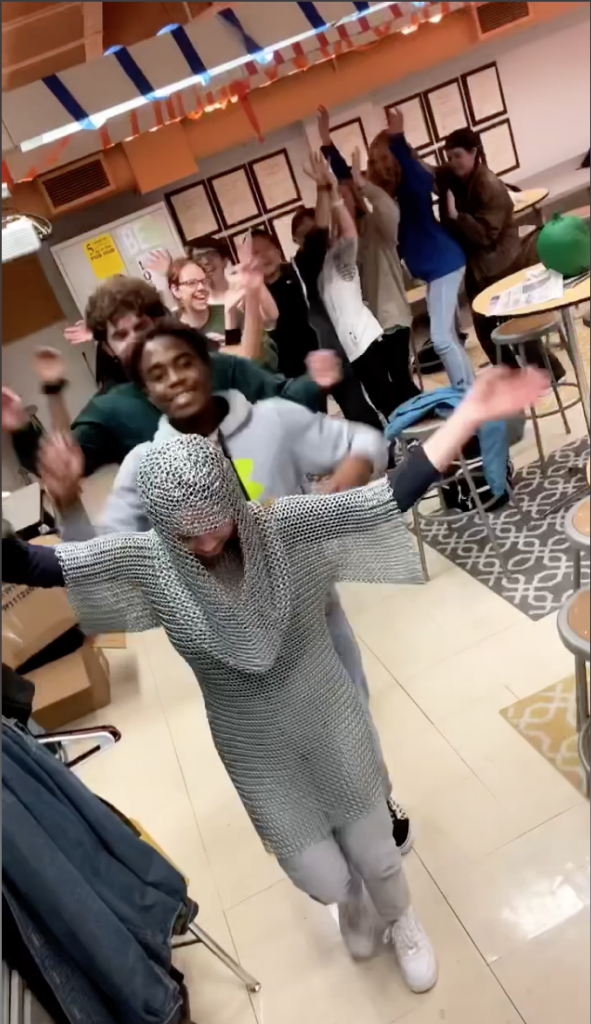 Attending National Conventions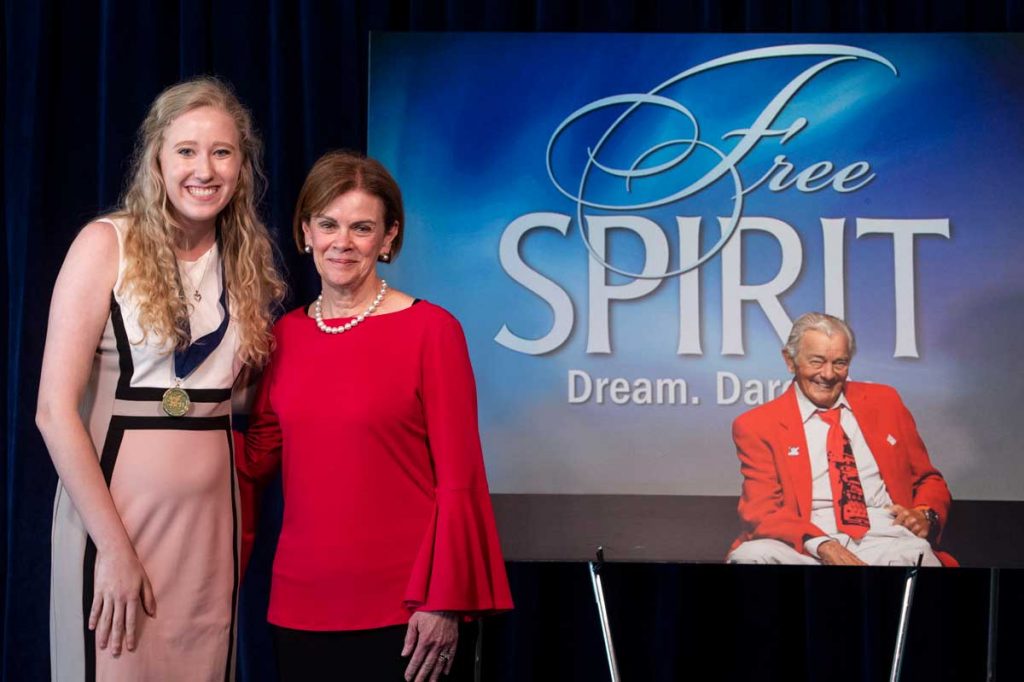 Getting the chance to travel and network with professional journalists throughout my time in high school has been invaluable to me as a student journalist.
While in FHN Student Media, I have attended four National High School Journalism Conventions, winning national awards in the Portfolio of the Year and Social Media Promotion categories.
In the summer of 2019, I was selected to represent Missouri at the Al Neuharth Free Spirit and Journalism Conference in Washington D.C., where I got the opportunity to spend five days at the Newseum and hear from professional journalists at some of the top news organizations in the country, like NBC, The Washington Post, The New York Times, USA Today, and the Associated Press.
My favorite part of these conventions is getting to bring home the new ideas to my staff and learning things outside of my comfort zone. I've been lucky enough to take classes in a variety of topics, including building a staff, copyright law, multimedia packages and more.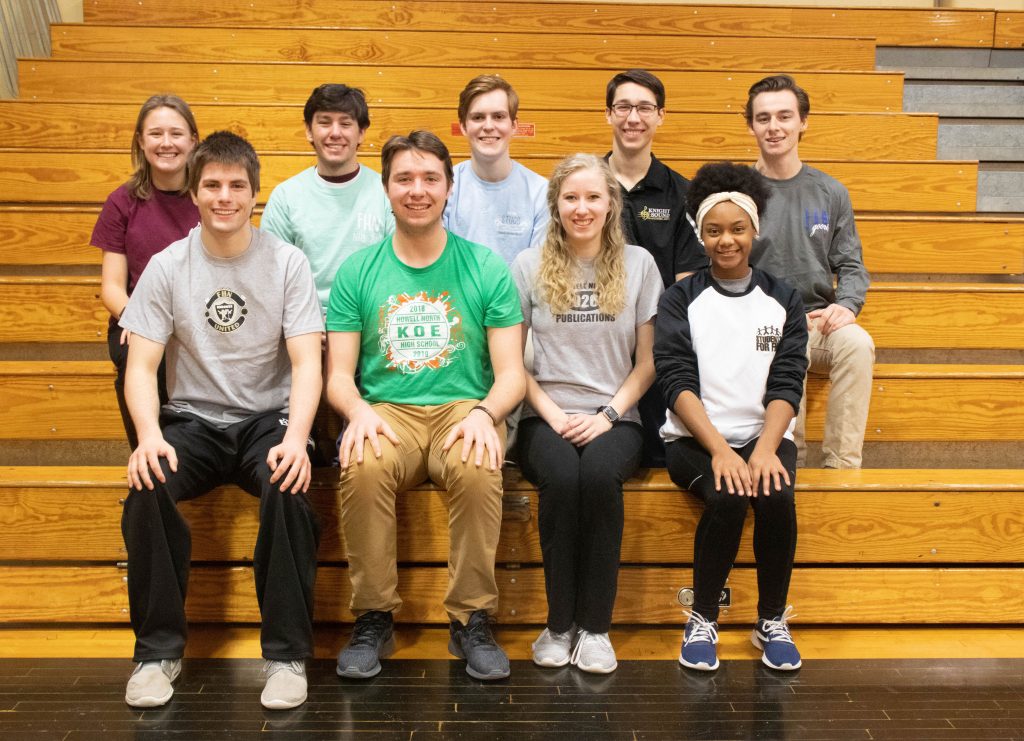 I have served on the FHN Student Cabinet since the beginning of my junior year. The cabinet was started by our new principal and featured leaders from the 7 student organizations that directly affected the student body at school.
The cabinet worked to make the school better as a whole by creating a place where organizations could communicate with each other about different events and initiatives they were working on, as well as work together towards some common school goals.
As the representative for our journalism program, I worked with my fellow cabinet members to promote different aspects of the school, such as creating a new hat policy and presenting it to staff members.
Being on the cabinet has allowed me to become a better journalist by learning more about the rest of the student body. By hearing about the goals of other student organizations, I returned to my staff with unique story ideas and ways to promote events through our social channels.
Quill and Scroll National Student Advisory Board

I was first introduced to the Quill and Scroll National Student Advisory Board during my sophomore year. I was a new inductee to the Quill and Scroll Honors Society, and Executive Director Jeff Browne was looking to create a board of student leaders across the country to help advise in new Quill and Scroll opportunities and implement projects into their own Quill and Scroll Chapters.
I was a charter member of the board in February 2018, and continued my work through the 2019-20 school year.
I have primarily worked with JEA to come up with themes and activities for Scholastic Journalism Week. I communicated with other board members to make decisions on the themes and find ways to promote them on social media channels. In 2019, we also created a packet of activities sent to JEA and Quill and Scroll schools to help them participate in Scholastic Journalism Week.
Working with the board was challenging since we went to different schools across the country. Coordinating schedules and times was tough and required a lot of communication among members, but we were able to put together some great social media posts and themes for the entire week.
I also met with the board at various JEA/NSPA conventions, hosted two episodes of The Source Podcast (on the Multimedia Broadcast page), and wrote an editorial (on the Law and Ethics page) advocating for student press rights in the Quill and Scroll magazine.
See our social media posts below from the 2018-19 Scholastic Journalism Week.
"I save democracy by holding those in authority accountable to their actions through the creation of editorial comics that empower my peers to be critical of the decisions affecting them." -Rebekah Myers, Managing Editor of Design for the North Star #SavingDemocracy #SJW2019 pic.twitter.com/c5M78GxUw0

— FHNtoday (@FHNtoday) February 21, 2019
In addition to my work with the board in 2018 and 2019 on social media, I also promoted 2020 Scholastic Journalism Week through FHN's Quill and Scroll chapter.
Throughout the week, we ran a game in the hallways for students to quiz themselves on media literacy, sent deadline care packages to local St. Louis schools and hosted a pancake breakfast for the entire school to celebrate scholastic journalism. See photos from the week below.