One of the best parts of working in journalism is having others read your work and give you feedback. Throughout my time at FHNtodayTV, I've looked to market our content in ways that resonate with our student body and allow our staff's work to be seen.
Creating Change at FHNtodayTV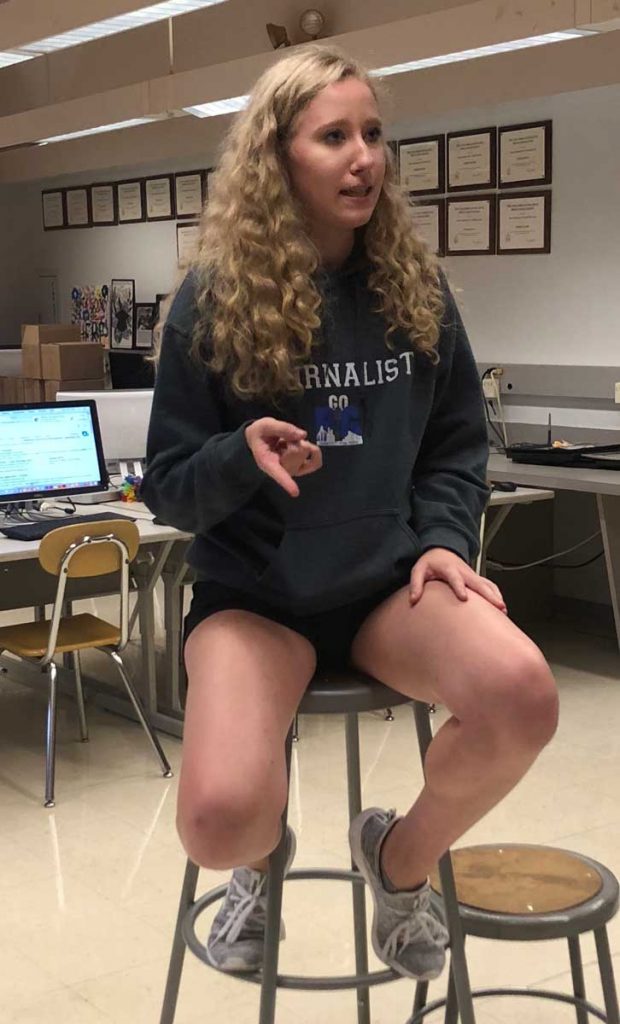 At the beginning of my first year as Executive Producer, our broadcast program looked very similar to many other schools across the country. We all learned how to make broadcast pieces that would be featured in our monthly show, called FHNtodayTV. When the program first started, all content was centered around the creation of the show.
Our audience, the student body, was not interested in watching a traditional broadcast news show. Our students loved social media and the web and found most of their news and entertainment online. They didn't watch the evening news, but spent their time watching quick, fast-paced shows on YouTube. While our traditional broadcast show aligned with many of the top shows from high schools in the country, our audience simply didn't care to watch it.
My adviser and I made the bold decision halfway through first semester to completely redo the way our broadcast staff was run to become more focused on creating content for the web.
In addition to our team that made broadcast packages each month, we created a daily lineup of shows similar to my show, The Hood Report, that featured various stories about the school, community and nation. We created a group in charge of creating promotional content for our shows and stories and organized a team to create animated graphics for our videos.
During my senior year, we added a section specifically geared towards audio podcasting that created content for our Spotify account.
Our student body loved our new lineup of shows. We gained more traction than ever before, and each anchor began to develop their own audience and promote their content on their personal social media channels. Our anchors were even getting stopped in the hallways to be asked about their shows.
While our program didn't look like a traditional broadcast program, we pushed boundaries and created content geared towards the web that our audience loved to watch.
Look below to see some of the videos my staffers created after our transition.
Branding the FHNtodayTV Network
When creating the intro for each FHNtodayTV show, we created consistent branding between each episode.
To do so, we used the FHNtodayTV logo in the introduction of every episode. This helped viewers understand that each show was part of the larger network, FHNtodayTV.
All five anchors also created promotional videos to promote the FHNtodayTV network shows on our social media channels.
All of these branding decisions helped to rebrand our new content while still keeping the personality of each anchor unique.
See some examples of our branding below.
Kick back, relax, and enjoy (uninterrupted) videos from FHNtoday TV on YouTube. Catch new episodes of Northside News, Hour with Lauer, Az's Analysis, The Hood Report, and Sports Break with Jake every week. Don't miss out! 🎥📰 pic.twitter.com/mCEsUMeTvm

— FHNtoday (@FHNtoday) April 4, 2019
Promoting Packages on Social Media
Since our content on FHNtodayTV was centered around the web and social media, we knew generating a presence across our social media was crucial in making our transition work.
We originally formed a social media team in charge of creating promotional videos for all of our content. The team was made of three people who made one edited promotional video per week to drive traffic to our YouTube channel. We quickly realized that having a team of three people was not enough to be able to push all of our videos.
The following year, we implemented a new system to better promote our content. All staffers creating broadcast packages were required to make their own promotional video to be shared on social media. We also added a new Video Promotions Manager to our editorial team to better organize our content across our platforms.
These changes not only helped our videos gain more exposure, but also helped our program grow and adapt to the needs of our audience.
See some examples of our promotional content created by our staffers below.
Personal Branding as a Student Journalist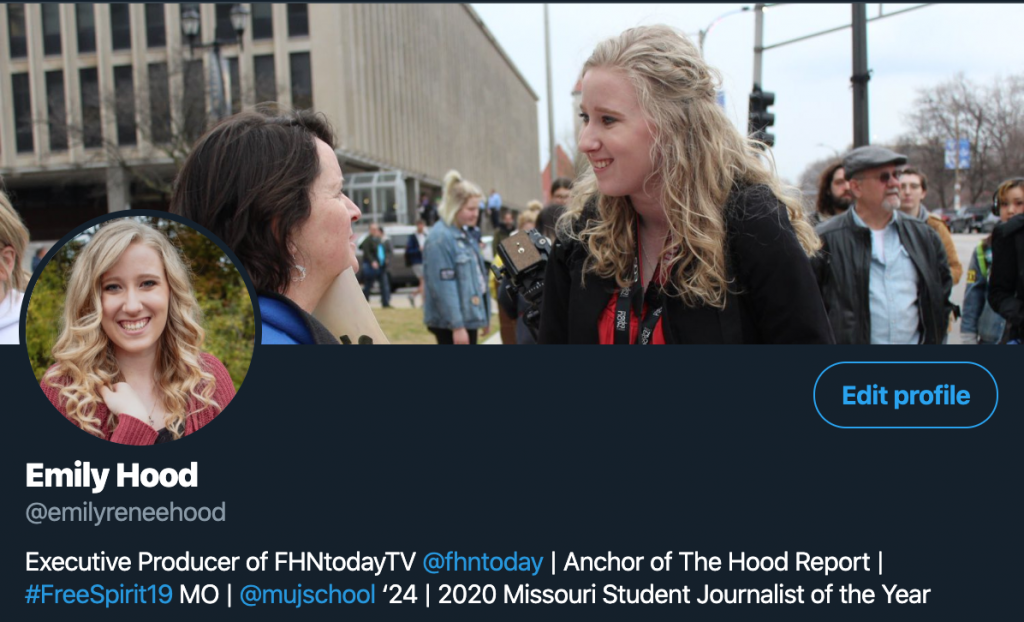 Keeping a community informed is my primary job as a student journalist. Throughout my time at FHNtodayTV, I worked to brand our video content in a way that was recognizable to our audience.
At the beginning of this semester, I wanted to take my branding efforts a step further through my personal Twitter account, @emilyreneehood. I looked to become more active on the platform and create a following as someone who kept the FHSD community informed on current events within our district and the broader St. Louis area.
When creating my tweets, I not only look for information that I believe others should know, but I also look to add information to each of my retweets to help my followers gain a clear picture of the day's events.
Follow my Twitter feed here.
In order to raise money to fund our journalism program, members of the FHN Media program head to local businesses over the summer to sell ads run in our newspaper, yearbook, and website. In my two years in the FHN Media program, I have sold over $1,000 worth of ads to various businesses such as Birthright St. Charles, Willie's Barber Shop and Lawrence Florist.